Find the perfect Mallorca Christmas gifts for your loved ones or a special birthday celebration, it's always nice to be able to gift quality and original presents. Support small businesses and buy from Mallorca based small businesses, because when you buy from a small business, there is someone doing a happy dance!
If you think we should include a business you love in this Mallorca Christmas gifts guide, please email us at palmainstatour@yellothere.com.
Looking for a specific category?
Or just scroll down to discover all of the fantastic small businesses featured in our Mallorca Gifts Guide and find the perfect presents for your loved ones.
Fashion
Sunvibes
Give someone you love Sunvibes! They will have a personalized memory dress, inspired entirely by their favorite colours, their spirit animals, and all the symbols that have a special meaning to them. There are many different styles, gorgeous, feminine, flowy dresses, kimonos and skirts, all of them designed for the free spirited women.
Click here to shop.
The Bleuve
Having The Bleuve in your closet means having something that represents your way of being and seeing life. This brand makes denim vintage jackets combined with art and nature. They can be a special present, because each piece is unique and tells a story. No two jackets are alike. Besides, under the philosophy 'let's take care of the greatest thing that has been given to us' The Bleuve tries to maintain their passion for taking care of our planet.
Give a cool surprise this Christmas shopping at: https://thebleuve.com
Scaphandre
Discover this men's and children's swimwear brand based in Mallorca. They offer high-quality luxury swim and seaside apparel and accessories. Scaphandre's spirit encompasses a lifestyle that surrounds adventure, exploration, discovery and global travel. This holiday season make your partner, friend or father a seaman, a daredevil… or a gentleman.
Shop at: https://www.scaphandrewear.com
NAKĀWE
NAKĀWE Swimwear is an ethical and eco-conscious swimwear and beach accessory brand, which uses the first nylon 6.6 biodegradable in the world. Designed in Palma de Mallorca and handcrafted in-house in Brazil, from start to finish, at a small seamstress workshop, that combines more than 20 years of experience in swimwear. Prepare your loved ones for the next summer or warm holidays with NAKĀWE.
Find their designs here: https://www.nakaweswimwear.com
Sustainable
Viveco
At Viveco, they are passionate about making sustainable living accessible to as many people as possible, that is why we wanted to include them in the Mallorca Christmas gifts guide, because it is a great option with which to improve someone's lifestyle.
Start now with the change, buy at: https://www.viveco.co
Cleanwave
Under the motto of Reduce, Refuse, Refill, we find the non-profit initiative Cleanwave.org. Every Cleanwave bottle that you buy goes towards plastic prevention and regeneration of the Mediterranean Sea. If you are looking for a Christmas gift whilst helping the environment, Cleanwave bottles are the best alternative.
Shop at: https://store.cleanwave.org
Gifts
La Osadía Shop
La Osadía Shop is a perfect store for the Mallorca Christmas gifts guide, where you will find clothing, jewellery, illustration, decoration and much more, made by a couple from Madrid who decided to escape to Mallorca. Surely you can find an ideal gift for this Christmas in this small concept store of handcrafted production.
Click here to shop.
Amancay – Rural Hands
If you are looking for buying flowers this Christmas, you should take a look at AMANCAY – Rural Hands. Not only do they have a collection of dried and preserved flowers, but they also have scarves and blankets, natural candles, bags and baskets, and books that will win over anyone.
They promote the value of crafts, Mediterranean traditions, caring of our planet and empowering a circular, authentic and fair economy.
Find the store at: Costa d'en Brossa, 5, 07001, Palma, or click here to buy online.
Stephie.M
Surely Stephie.M needed to be part of the Mallorca Christmas gifts guide. She offers textile collections for warm and charming interiors, with colours from the beautiful island of Mallorca. One of these unique pieces collection made from antique & raw fabrics could be the perfect gift for this holiday season. Everything is designed and handmade, and respecting the environment.
Click here to shop.
Alamar Editions
Alamar is a meeting point for lovers of simplicity, culture and beauty, which take shape in unique objects of craftsmanship and design. You will find from handbags and totes, necklaces to prints, notebooks and much more. All of are sustainable and environmentally friendly products, and they allocate part of their profits to social projects in the Mediterranean.
Find them at: https://www.alamareditions.com
Oma Project
Oma Project is home to bespoke interior design and styling services, offering hand picked and custom made furniture thanks to its excellent network of artisans and artists with the aim to create authentic, sustainable, warm and soulful interiors.
At their boutique, located on Carrer Pou, bajos 33, 07013 Palma, you will find linen dresses, bags, sandals, and other pieces of art.
Discover their web at: https://www.omaproject.es
Jewellery
Dzerve Jewellery
If you love the Ocean, the Sun, the Moon and the stars, you have to know Dzerve Jewellery. Their products are inspired by all these, as well as textures, cleanness and freedom. Dzerve focuses on delicate, precious and timeless jewellery pieces. All designs are made from scratch and handcrafted at her studio in Mallorca. Focus is on sustainability, all materials are from sustainable sources, using non toxic materials and supplies in the jewellery making process.
Shop at: https://www.dzervejewellery.com
White&Blu
Give White&Blu a chance and transport this Christmas to Greece. Their colors, designs and production are inspired by their islands. Unique, high quality pieces of hand made jewellery created by local Greek producers and using local materials. White&Blu was born to defend the ideals of women and to make them feel free.
Find their pieces here: https://www.whiteandblujewellery.com
Books
Rata Corner
Rata Corner is an independent bookstore, located at carrer d'Antoni Marquès 34 in Palma, where you can find a a varied selection of books, vinyls and graphic works for all kinds of tastes. The books that make up their catalogue are selected one by one with the intention of offering an attractive, coherent and quality catalogue. They also offer a selection of pop and rock music, with special interest for local artists; and a section of graphic work with originals, silkscreen prints or prints of local and international artists.
Click here to see some of their books.
"Hormonal Harmony"
In this Mallorca Christmas gifts guide we included some books, as Hormonal Harmony, written by Susanne Haegele. It is the best option to give to women aged 16 to 86. Puberty, fertility, maternity, menopause… these major phases of a woman's life have something in common: the deep impact of hormonal changes. The book shows you how to be proactive and contribute to rebalancing your hormones, naturally.
You can buy it on Amazon or Waterstones, also available in French, and coming soon in Spanish.
"Sleep, Eat, Drink, Shop, Explore Palma"
An explosion of new trendy places during the last years changed the so-called 'pearl of the Mediterranean' considerably and makes it more beautiful today than ever. Yet, despite the modernity, the Mediterranean flair can still be felt in every corner. This Palma Guide will show you a curated selection of our favorite places to "sleep, eat, drink, shop and explore".
Click here to buy it for 24,00€.
"111 Places in Mallorca that you shouldn't miss"
If you wanna give a different vision from Mallorca, you should choose this book as a gift for this holidays. "111 Places in Mallorca that you shouldn't miss" is a book of temples, paths and unpublished stories of Mallorca, written by Rudiger Liedtke. It will show you curiosities about better-known sights, new locations and will tell you a lot of stories that you probably don't know about.
Click here to buy it for 17,54€.
"The mymuybueno Cookbook"
Justine Murphy not only shares in her book "The mymuybueno Cookbook" delicious recipes and valuable tips on navigating the challenges of modern life, but also her extraordinary story, giving us an incredible insight into the woman behind the successful business: mymuybueno.
You can buy it here online for £25,00 or at Rialto Living in Palma, Delicioso, Viveco in Alaró or Knox Design.
"Instagrammable Barcelona"
"Instagrammable Barcelona" is a collection made by Barcelona Travel Girls of some of the most Instagrammable places in Barcelona and a tribute to this fascinating city. This book includes photos of the most beautiful locations all around the city, address for each location, information, tips to take your own instagrammable photos. So, if you know someone who is a passionate about Instagram, do not think twice, this is the perfect gift!
Here you can find the printed book for 19,99€.
Prints
Mallorca Prints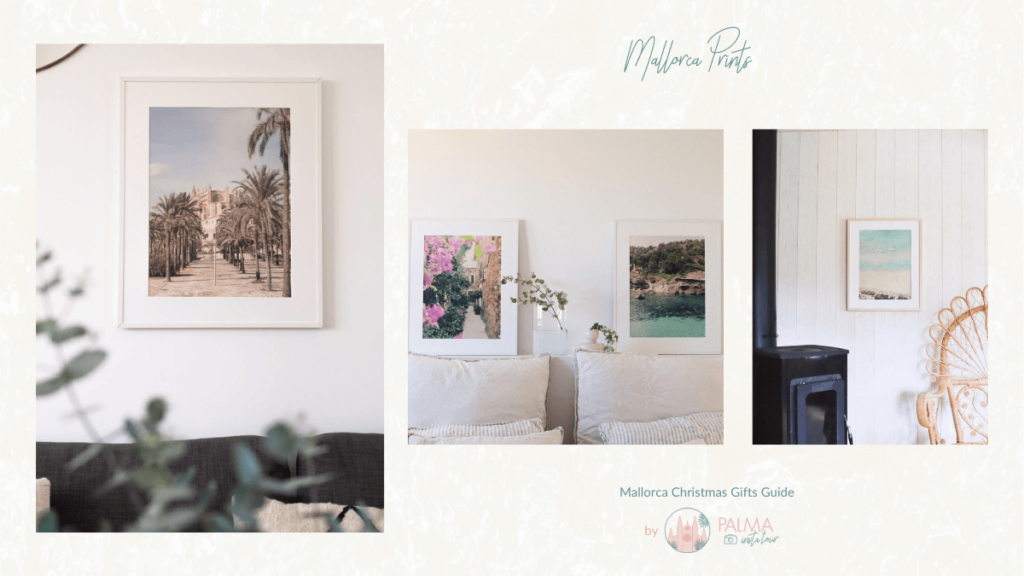 Mallorca Prints is a brand founded by Travel Palma, with which it aims to bring a piece of Mallorca to your home, through their amazing prints made on natural birch paper. Besides, 10% of all sales are donated to Cleanwave Movement. Give a piece of Mallorca to someone special this holiday season.
Shop at: https://travelpalma.net/shop/ ; or at their Pop Up Shop in Palma
Stick No Bills
It's time to fill your walls with spectacular poster art from Mallorca, Ibiza or Ceylon, and there is no better choice than Stick No Bills. Transport your walls back to the mid century modern and 1980s' golden eras of travel, time-machine-style, back to the art-deco.
Find them at Costa D'en Brossa 10, Palma, 07001, or click here to buy online.
Drinks
Solstice Blends
If you are thinking of giving a healthy and original drink, you should know Solstice Blends. They've created a line of products that provides warmth, health and energy needed to get you through the day. All their products are vegan, gluten free and made with organic ingredients, and it is so easy to prepare: Add liquid to the powder, mix and enjoy!
Click here to buy: https://solsticeblends.com
Son Prim
Discover the typical wine from Mallorca with Son Prim, a winery that was built in 2003, with the aim of producing wines of the highest possible quality with vineyards planted in the nineties. So, this Christmas, they can be the perfect detail to enjoy a lunch or dinner with your loved ones.
Buy their wines at: https://www.sonprim.com
Food
Mallorca Delicatessen – Mateu Pons
In this Mallorca Christmas gifts guide could not miss some typical food from the island. With the help of Mallorca Delicatessen products, you will take Mallorca home with you. They have been made with a process of refinement, search for excellence, keen dedication and nostalgia for the past. Their selection of products brim all the flavour, colour and aroma of this island.
You can find them at Plaza Marques del Palmer 7, Plaza Weyler 10 in Palma, or Calle Acapulco 2 in Playa de Palma. Or click here to buy online.
Cachao Chocolate
Cachao is chocolate in its most pure and natural form, rich in nutrients and full of flavors. They use fresh ingredients from the best organic farmers. It is essential to taste this authentic chocolate using real cacao solids without compromising on flavor, texture and nutrition.
Click here to know everything about Cachao.
Experiences
Naturacavall
Do you know someone who is passionate about adventure? This holiday season, let them experience the wild, unspoiled side of Mallorca on horseback, discover hidden places and feel at one with nature. Naturacavall is a small family run business who are pioneering this business. Each horse is loved and cared for.
Book the experience here: https://naturacavall.com
Palma Insta Tour
Give the gift of memories this Christmas! Make it happen with the Palma Insta Tour Voucher, which is worth for an hour photo session with the photographer Adèle, who will find the perfect spots in Mallorca to take pictures of you and your loved ones. A one-hour session is 95€, and the session will be made between February 15th and May 15th 2021. Surprise someone printing it and putting it under your Christmas tree!
Don't miss this opportunity and send a DM to @palmainstatour or email us at palmainstatour@yellothere.com.
Colour Confidence with Leesa Whisker
Give knowledge this holiday season! Do you know what Colour Confidence is? Leesa Whisker is a professional with 20 years of experience working internationally as an image consultant and stylist. She will teach you through an online masterclass to discover the beauty of your natural colouring and your best colours for clothing, hair and makeup, to save you time and money, help you dress and pack with ease and boost your confidence.
Buy it for here 88£.
La Guilda Cerámica
A bit of creativity is the perfect gift for this Christmas. If you know someone who enjoys doing crafts, you can give them a pottery workshop like the one that offers La Guilda: 2 hours for 25€ all inclusive. It is a nice option to enjoy with your family or friends and to take out your most creative vein.
Find them at Carrer Torre de l'amor, 2, Palma, or on their webpage: https://laguilda.com
Can Moio
Hotel CAN MOIO in Montuïri, Mallorca, is a different idea in this Mallorca Christmas gifts guide that can surprise your loved ones. An amazing place to rest, relax and discover the surrounding area throughout the year. Enjoy the marvelous salt-water swimming pool in summertime, lounge in front of open fireplaces in winter or take a gentle stroll around the beautiful gardens.
Click here to book!
Chef Sofia Sagripanti
The vegan and gluten free chef Sofia Sagripanti, offers some special Christmas Gift Card with discounted prices. She makes beautiful vegan gluten free cakes (bespoke orders too) and take private cooking classes. So if you know someone who is passionate about vegan cooking, they will love this.
Have a look at her Instagram to discover more.
Carys Andersson
The Fitness & Lifestyle Coach Carys Andersson offers a 6-week health and fitness programme to get you feeling your best self. Six weeks of progressive workouts designed to burn fat, build fitness and tone the whole body; targeted workouts for arms, gluten and core to create a strong toned physique; nutrition coaching to take the guesswork out of 'dieting'; and much more.
Buy it now for 106€. See all the details here.
If you liked this Mallorca Christmas gifts guide, don't hesitate to give love and share it. Let's help small businesses together this holiday season!
With love, Palma Insta Team xx